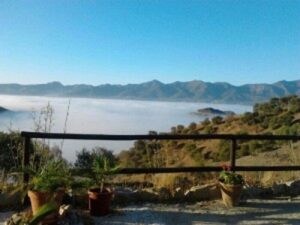 Our privileged situation, at an altitude of 300 meter, between the Guadalhorce Valley and the southern face of the Sierra Llana, by which the breezes from the east of the Mediterranean Sea are entering that provide the necessary supply of humidity for the vineyard so that the grapes will get the scarce but sufficient supply of water, enough to obtain quality grapes from the different varieties planted. It is not a surprise that the Romans already selected these grounds 2000 years ago to plant their vineyards and make their wine.
And our land is poor, calcareous and clay-loamy, which helps for the vineyard to find conditions, remarkably suitable for its cultivation. This, together with the competences of our enologist and the support of all our team, makes that we can realize wines as special as our Roble Cartima Siglo XXI and our Moscatel Seco Cartima Siglo XXI and the Rosé Cártima Siglo XXI .
Cartima Siglo XXI Roble 2015 :
 Denominación de Origen SIERRAS DE MALAGA
Full body wine, aged for over 10 months in barrels of French and American oak.
Varieties: Merlot, Garnacha, Cabernet Sauvignon, Syrah.
Visual phase: intense cherry colour, shows violet tones.
Olfactory phase: medium intense aromas of ripe blackberry fruit, notes of spices reflecting the complexity and quality of the wine.
Gustatory phase: smooth and well balanced, medium acidity and a good astringency. Fruit aromas persist as well as notes of coffee resulting from the ageing in oak.
Points of sale: our wines can be in our winery and more…
Moscatel Seco Cartima Siglo XXI 
Denominación de Origen: SIERRAS DE MALAGA añada 2017
Mono variety wine, partialy fermentated in French oak barrels and aged over lees during 3 months.
Varieties: 100% Moscatel de Málaga
Visual phase: straw yellow color of certain intensity, clean, gold and greenish reflections, slightly dense.
Olfactory phase: aromatic, notes of honey, white flower and citrus, typical for the variety. Aromatic complexity for aging over lees and in oak barrels.
Gustatory phase: dry wine, smooth and well balanced, pleasant acidity providing freshness, complex and with caracter
Points of sale: our wines can be purchased in our winery and more…
Rosé Cartima Siglo XXI – 2018

Denominación de Origen: SIERRAS DE MALAGA
Mono variety wine, aged over lees during 3 months.
Varieties: 100% Syrah
Visual phase: strawberry pink, clean with some violet reflections, slightly dense.
Olfactory phase: aromatic, flower and red fruit typical for the variety, fresh, aromatic complexity for ageing "over lees".
Gustatory phase: dry wine, easy to drink, saline and with a pleasant acidity that gives it freshness. long, persistent in the mouth, warm finish. Complex, ample and with character.
Points of sale: our wines can be purchased in our winery and more…
This post is also available in: